Layman Activities - Celebrating World Thyroid Awareness Day 2022 Seminar
In 30 Juli 2022, PT Eisai Indonesia collaborated with the Indonesian Nuclear Medicine Association (Perhimpunan Kedokteran Nuklir Indonesia/PKNI), Mandaya Hospital, and the Pita Tosca Community Indonesia to hold a seminar called "Talkshow Tiroid: It's Not You. It's Your Thyroid" in commemoration of World Thyroid Awareness Day 2022. The seminar aimed to raise public awareness about thyroid cancer so that individuals can seek medical treatment in a timely manner.
The event was moderated by Dr. Alvita Dewi Siswoyo, Sp.KN(K), and featured expert speakers in the field:
Dr. Eko Purnomo, Sp.KN-TM(K),
Dr. Toman Lumban Toruan, Sp.PD-KHOM,
Dr. Arif Kurniawan, Sp.B(K)Onk,
Astriani Dwi Aryaningtyas, S.Psi., M.A.
Oncology Director Asia and Latin America, Eisai Co., Ltd. Japan, Ms. Ruiko Sakai, also attended the event to show PT Eisai's concern and support for thyroid cancer patients and the community. In addition to the scientific talk show, a sharing session was also held with patients led by Dr. Soraya Jasmin Haque, S.H., M.H, as MC and moderator for the motivation session.
Aside from the scientific talk show, there was also a sharing session with patients led by Dr. Soraya Jasmin Haque, S.H., M.H, who acted as the MC and moderator for the motivational session.
According to GLOBOCAN 2020, thyroid cancer ranks 12th with the highest number of cancer cases, reaching 13.1141 cases. Thyroid cancer is 2-3 times more at risk in women than in men.
One thyroid cancer fighter, Dela Listiya, S.T, who joined the Pita Tosca Foundation, recounted her early symptoms of being diagnosed with thyroid cancer. Dela said that awareness came not from herself but from relatives and family members who noticed a swelling in her neck. "I saw changes in myself such as acne, stress easily, and some of my pants were too big, and my friends also commented that my neck looked very big. It was only after that that I had an initial examination," said Dela.
This was also felt by Ir. Cahyaniati, M.Si, who is also a thyroid and breast cancer fighter. She said, "After surviving from breast cancer for 5 years, I felt something was strange about myself again. I felt shortness of breath, had difficulty speaking, and had a cough that did not go away until finally, I did a PET scan and found hypercalcemia, and was finally advised to undergo a thyroidectomy (removal of the thyroid gland)."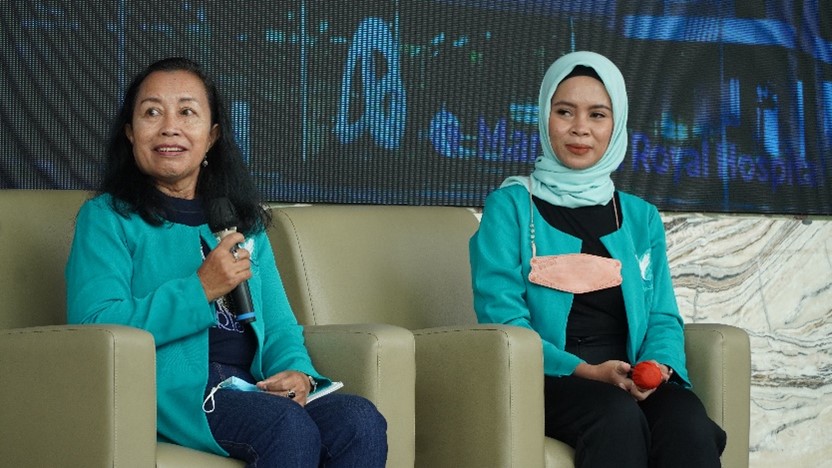 According to Dr. Arif Kurniawan, Sp.B(K)Onk, a surgical oncologist at Royal Mandaya Hospital, the disorder that occurs in the thyroid gland is sometimes not felt by the patient but by people around them who see the change or detected through unintentional checking via Ultrasonography (USG).
Thus, early detection and public awareness of thyroid cancer need to be increased so that the community can get early treatment. In addition to early detection, treatment and management of patients must also be appropriate. On this occasion, dr. Eko Purnomo, Sp.KN-TM(K), as chairman of the Indonesian Nuclear Medicine Association (PKNI), explained that the process of treating thyroid cancer, in addition to surgery, is continued with an ablation method, which is the removal of surgical remnants using nuclear therapy. "Usually, people are worried when they hear the word nuclear, but actually there is no need to worry because this nuclear therapy method is not injected but is taken orally, so patients do not need infusion or injection," said the chairman of PKNI.
However, in other conditions where the cancer is refractory (not responsive to ablation), the principle and method of therapy must be changed through systemic methods such as chemotherapy or the latest target therapy. "Targeted therapy is carried out by the patient consuming medicine orally and then evaluated 1-2 months to see if the patient responds well or not," said Dr. Toman Lumban Toruan, Sp.PD-KHOM.
Not only the symptoms or physical changes experienced by patients, but also from the psychological side, patients also experience changes. According to Astriani Dwi Aryaningtyas, S.Psi., M.A as the chairman of the Pita Tosca Foundation and also a thyroid cancer survivor, "Patients with a diagnosis of thyroid cancer will definitely feel that their world has ended, there will be an extraordinary feeling of fear and confusion about what to do, but with support from family, relatives, and medical personnel who collaborate with each other, of course, can provide new spirit and hope. I also want to convey to all friends who are currently struggling, that we are not alone, many people care and we all must believe that we can be healthy again."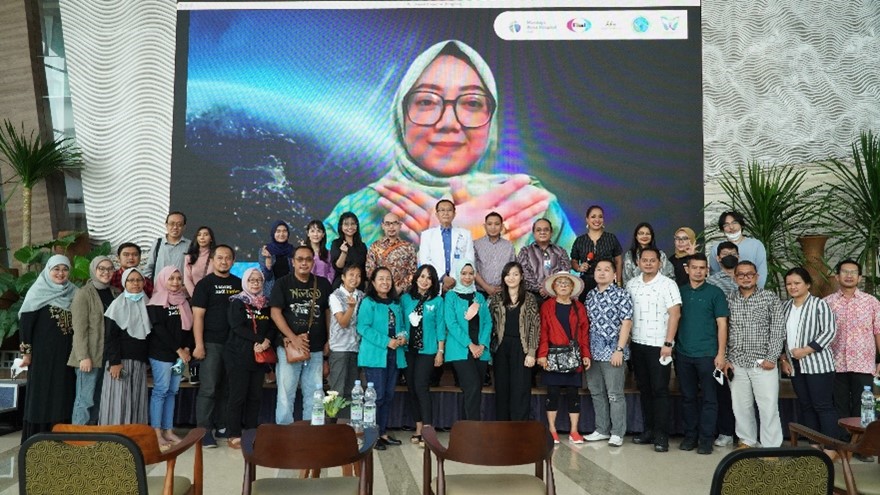 The event presented by Dr. Soraya Jasmin Haque, S.H., M.H is considered successful and brings great benefits to the community, especially cancer observers. How not, the number of participants who attended with a total of more than 500 people will each play an active role in voicing the importance of early detection of thyroid cancer and maintaining a healthy lifestyle. Hopefully, this event brings a deep meaning about the importance of health and collaboration in the health sector can be optimal in supporting all cancer patients who are struggling to achieve their health.